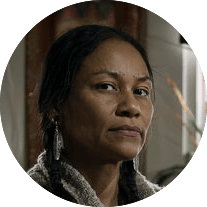 Carolynne Crawley
Carolynne Crawley, is a gentle yet powerful force in bringing nature and Indigenous teachings to the forefront of social and environmental justice movements in Toronto.
She is founder of Msit No'kmaq, co-founder of the Turtle Protectors and a member of the Indigenous Land Stewardship Circle. Carolynne is Mi'kmaw and has Black and Irish ancestry, originating from Mi'kma'ki territory, also known today as Nova Scotia.
She shares her teachings as a Forest Therapy Guide, Kairos Blanket Exercise Facilitator, Storyteller and Producer, having co-produced the documentary Reckoning with the Wendigo. She has a long history of working with children and youth, and has instigated the building of multiple school food gardens over the years.
Experiencing Collaborative Care in Toronto's High Park
Contribute to High Park's rich landscape through a hands-on planting session and tours that will unearth how Indigenous worldviews influence stewardship and restoration practices. A social gathering and series of (literal) fireside chats will encourage participants to connect with and learn from other large urban park leaders as they share their unique approaches to common challenges.